It's the story of a spark that turned into a wildfire. August 12, 2016, Jean-Prince Mpandi, the sixth "Kamwina Nsapu", the traditional chief of the Bajila Kasanga, was killed in an assault on his home, in the Kasai-Central province. All eyes were turned toward another Kasaïen, Étienne Tshisekedi, the historic opposition leader who had just returned home after two years of exile. Just a few months before the end of Joseph Kabila's term, one chose insurrection, the other chose dialogue. Ten months later, hundreds have been killed, perhaps thousands, and thousands of children enlisted as combatants, more than a million displaced, and at least forty mass graves have been found.
Like Étienne Tshisekedi, Jean-Prince Mpandi was a child of Kasai-Central, one of the poorest provinces in Grand Kasai. Until now, a haven of peace: majestic parishes every 20 kilometres, and surrounding villages that carry the names of the chiefs that lead them. Too few roads and bridges built during the time the missionaries were there, and not much since their departure. The railway, which still functions, zigzags across rivers and fields.

The old opponent Tshisekedi deserted his native Kasai long ago to lead the fight in Kinshasa. But in Grand-Kasai, there are only three powers that count: the state, which is detested by many, the Catholic Church, which has lost ground, and the traditional chiefs. Since 2015, a new law giving status to traditional chiefs was enacted. It calls for compensation for the chiefs and the publishing of a decree recognising the status of each chief. The Kabila regime is accused of using this new law to gain political advantage in order to assert its control over this opposition stronghold. Since colonisation, no regime—neither Mobutu's, nor Laurent-Désiré Kabila's—-had touched the traditional power in this area of Grand-Kasai. It is said that President Mobutu would go and see the most important traditional chiefs, at the royal court, to greet them.
The Kamwina Nsapu System
For some time, the country has experienced repeated economic crises. The most recent, the one that is hurting the DRC today, reminds Congolese people—maybe wrongfully—of the beginning of the 90s and the end of the Mobutu regime: a sharp weakening of the national currency, the increasing shortage of other currencies, rising prices and chronic unemployment. The economy of Grand-Kasai has declined at the same speed as MIBA, the mining company in Bakwanga, once the country's most flourishing business, which is now exploiting the nearly depleted diamond belt of Mbuji Mayi and is crumbling under 200 million dollars of debt.

Like their subjects, the traditional chiefs are poor. Some, accused of being in the pay of the current regime, gain recognition of their status without difficulty. But others, like Kamwina Nsapu, had to spend hours under a tree in front of the governor's office. Jean-Prince Mpandi displayed patience according to those close to him, but got nowhere.
KAMWINA NSAPU, THE FIRST CAUSES OF DISCORD WITH THE POWER STRUCTURE
"I am the 6th Kamwina Nsapu…"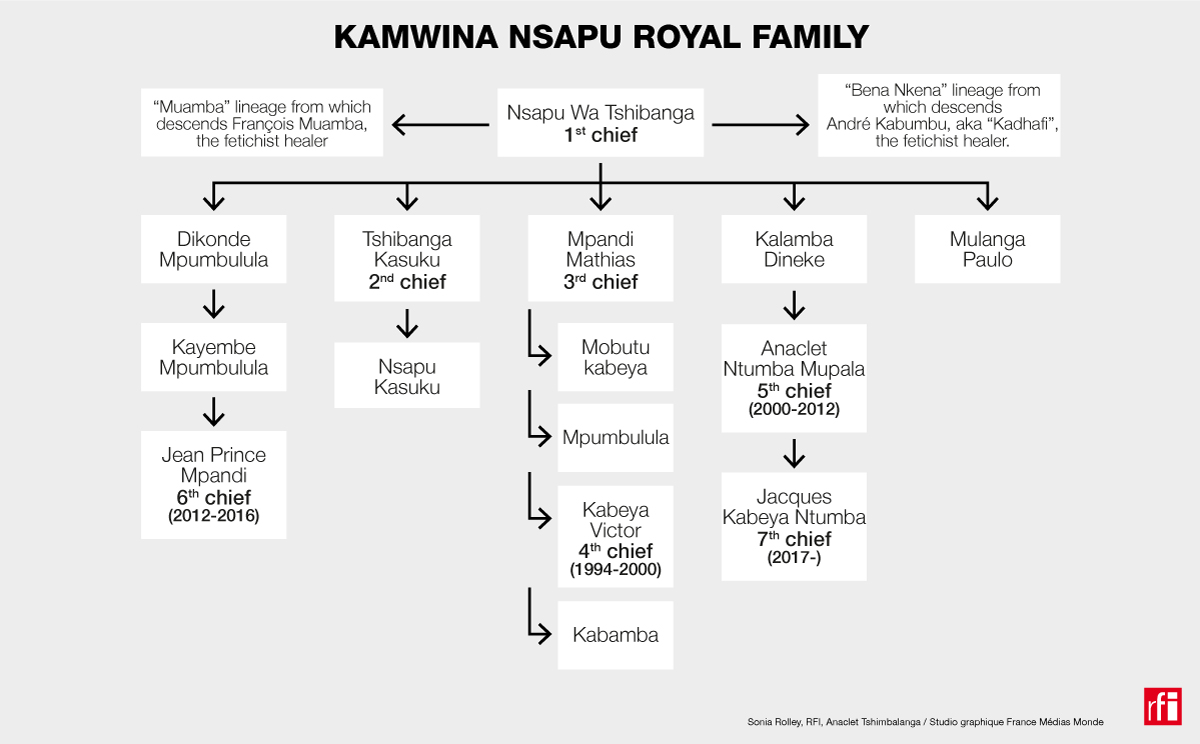 Sonia Rolley, RFI, in collaboration with Anaclet Tshimbalanga, traditional mediation expert.
It's toward the end of 2012 that Jean-Prince Mpandi became the sixth Kamwina Nsapu, or one of the main traditional chiefs of Dibaya, in what was to become Kasai-Central. He was 46 years old. His predecessor, Anaclet Kabeya Mupala, was a colonel of the Zairian Armed Forces, the former regime's army. He died several months earlier in circumstances that those close to him always found suspicious. Évariste Boshab, also a Kasaïen was president of the National Assembly at the time.
"Kamwina Nsapu Ntumba, who I succeeded, died while in the midst of preparing for a meeting with Boshab. (...) Tradition dictates that I cannot even talk by phone with Boshab, since he was involved in the death of Kamwina Nsapu Ntumba."
Extract from a telephone conversation of Jean-Prince Mpandi with a delegation of members of parliament on August 11, 2016
Read the whole conversation
In December 2014, Évariste Boshab was named deputy prime minister in charge of the interior by Joseph Kabila and therefore, became the main interlocutor for Kamwina Nsapu. The head of the country's national security service is accused by his critics of multiplying decrees giving the status of traditional chief to his political followers, thereby creating doubles, or new customary entities. He even named his own brother as the head of the association of traditional chiefs of Kasai-Occidental, much to the chagrin of the deposed president of this association, Senator Emery Kalamba Wafwana, king of the Bashilenge, who was considered more legitimate.
IN KINSHASA, A GROWING MISTRUST
For the Congolese authorities, Jean-Prince Mpandi is a charlatan, a criminal who spent his early years between Tshikapa, Lubumbashi, Zambia and South Africa. It's difficult to piece together his past. He studied at agricultural college in Lubumbashi, in Katanga province, but did not complete his studies. In 2004-2005, he reappeared in Tshikapa in Kasai. He set up a traditional clinic and said that he had learned medicine from Chinese practitioners. Sometimes he said he had travelled to China. Other times, he presented himself as a veterinarian. He gave off hints of his political ambitions and talked about uniting his ethnic group, the Bajila Kasanga, into one movement. No one knew where he belonged politically, but he had ties with South Africa, where his family lives, and with opponents such as UDPS "combattants," or even with Étienne Kabila, the self-proclaimed "brother" of Joseph, who was prosecuted for a coup attempt against the head of state (Joseph Kabila) before being acquitted.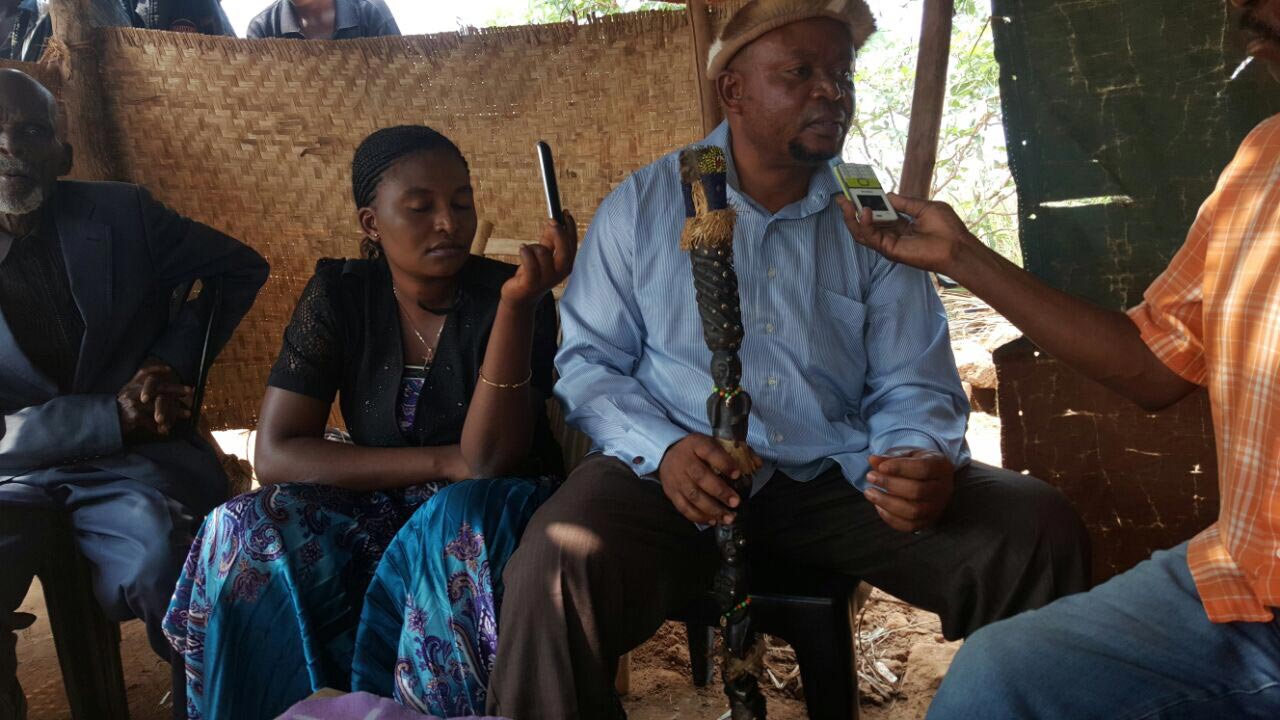 Kamwina Nsapu at the royal court of the Kamwina Nsapu © DR
From Kinshasa's viewpoint, it was in June 2015 that matters took a turn for the worse, as is revealed in a document that was never made public but was recently cited by the authorities. They had found it in Jean-Prince Mpandi's belongings, and since January 2017 presented it as evidence of his desire to foment an insurrection.
"Mr. Kamwina Nsapu has criticised the negligence of the Congolese government since its independence, (...) treats all civil, military and police authorities as "mercenaries," and calls the national government a "government of occupation."
Emmanuel Ramazani Shadari replying to a question from Martin Kabuya, a member of parliament from Dibaya, in the National Assembly, January 17, 2017.
In January 2017, the new deputy prime minister in charge of the interior, Emmanuel Ramazani Shadari, told the assembly that the government held a document signed by Chief Kamwina Nsapu entitled "No to elections in 2016." According to the Kinshasa regime, Jean-Prince Mpandi insisted on the need to restore traditional powers, "the natural emanation of citizenship," called upon "all young people" to erect barricades and chase out foreigners from Grand-Kasai, with the exception of "diplomats." Also, according to the regime, he issued an ultimatum for midnight on December 31, 2015.
Nothing in fact happened on the night of December 31, 2015 to January 1, 2016. But through his speeches, Mpandi attracted the attention of the security forces. A senior police officer, Chief Ntenda, a cousin, accused him of plotting an uprising.
"Based on the information received in April 2016 from a communique sent by the authorities, indicating the possession of military weapons by the group called Kamwina Nsapu, the provincial security council sent a joint ANR, FARDC (Forces Armées de la République Démocratique du Congo=Armed Forces of the Democratic Republic of Congo) and PNC (Police Nationale Congolaise=National Congolese Police) mission in order to verify the facts."
Response of deputy prime minister in charge of the interior Emmanuel Ramazani Shadari to a question from Martin Kabuya, a member of parliament from Dibaya, in the National Assembly, January 17, 2017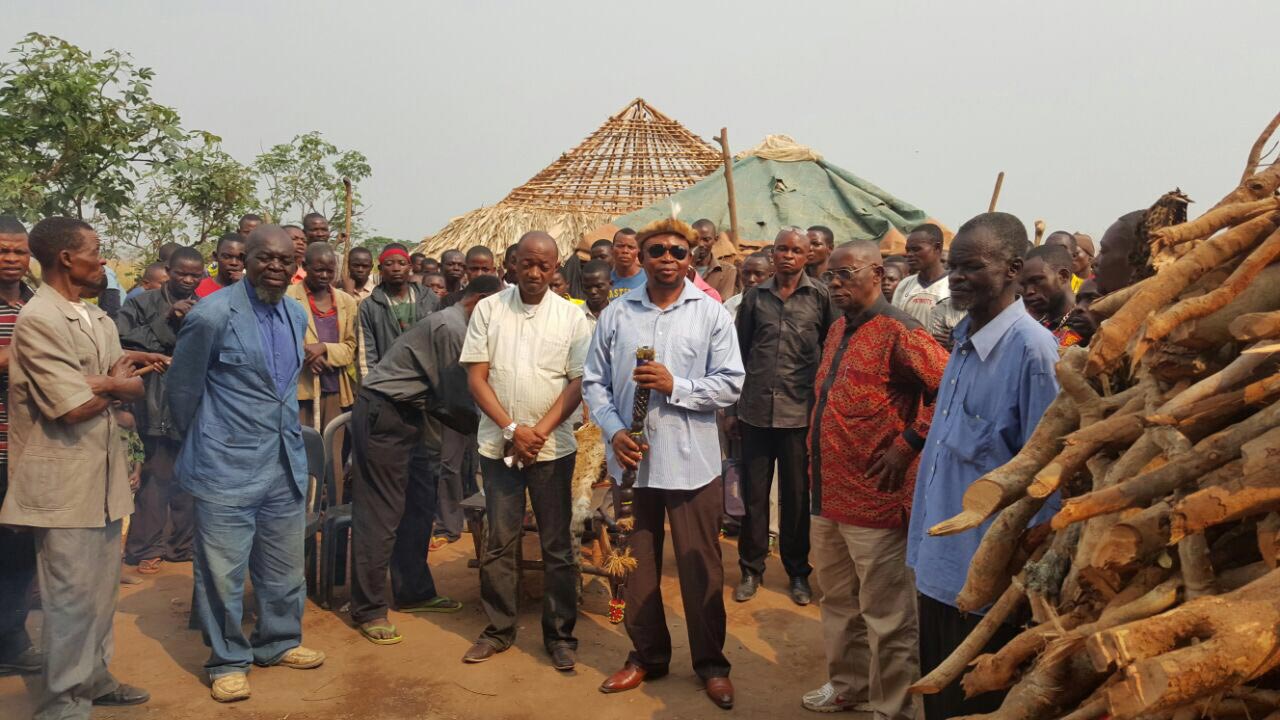 Chief Kamwina Nsapu in front of the Tshiota, a sacred fire in the village of Kamwina Nsapu © DR
"I AM NOT A TRADITIONAL CHIEF WHO TURNED TRAITOR"
The influence of Kamwina Nsapu grew, not only because of his protest speeches before the Tshiota, the sacred fire, but also because of the ceremonies he organised, especially baptism, where a potion is supposed to make a person stronger, even invincible to bullets. According to a security service official who asked to remain anonymous, these ceremonies, coupled with politically-charged speeches, were already taking place before April 3, 2016. That day, while Kamwina Nsapu was in South Africa, the police conducted a heavy-handed search of his home – the reasons for this search, he would say until the end, he could not understand.
"I am not a traditional chief who will sell out. I would never sell the land of our ancestors. I would not betray my kingdom. I will not accept money from traitors. And I will not agree to being a member of their political party. I do not interfere in state affairs. Why did they come to provoke me? That is the problem. They laid their hands on my sacred objects that embody my power."
Telephone conversation of Kamwina Nsapu with members of parliament, August 11, the day before his death
Read the whole conversation
RFI Interview - 14 february 2017 (original version)
Show of "frustration "of a traditional chief, Anaclet Tshimbalanga - expert in traditional medicine


For Jean-Prince Mpandi, this search was the straw that broke the camel's back. When he returned from his extended stay in South Africa, where his family lives, the traditional chief erected barricades around his home. Following a mediation attempt by provincial member of parliament Daniel Mbayi on July 15, 2016, Chief Kamwina Nsapu agreed to remove the barricades as a sign of goodwill. He even proposed, according to the member of parliament, a peace plan including the building of a school, a health centre and the distribution of seeds.


Kamwina Nsapu accepted to remove the barricade




KAMWINA NSAPU'S LAST WEEK